about us
二条市場について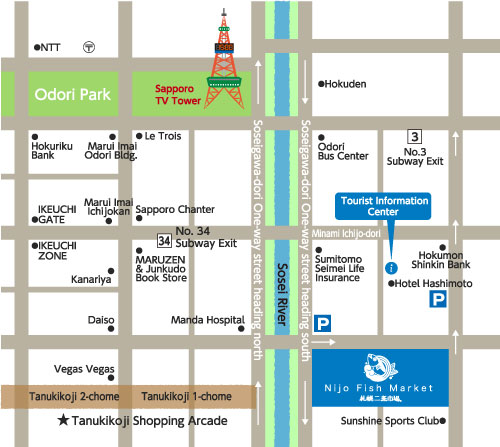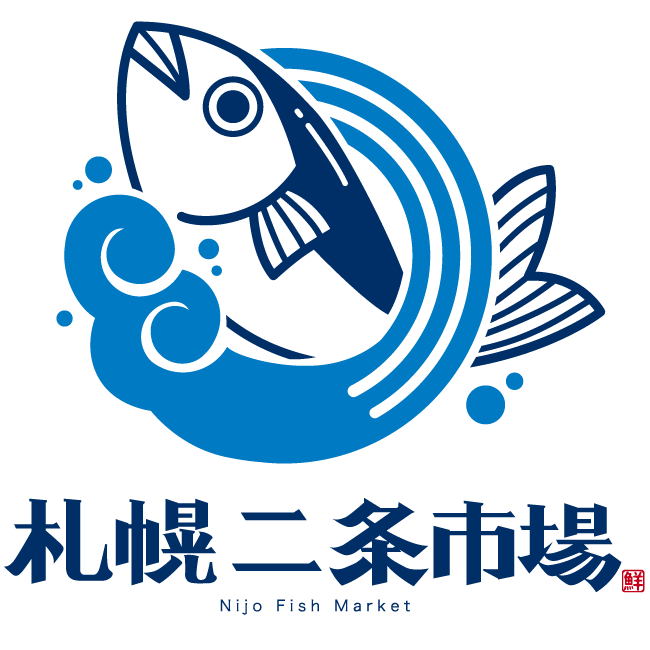 | | | |
| --- | --- | --- |
| ●From Sapporo TV Tower …………………………………………………………………………… |   | 5 minutes on foot |
| ●From Odori Park ……………………………………………………………………………………… |   | 5 minutes on foot |
| ●From Tanukikoji Shopping Arcade (1-chome) ………………………………………………… |   | 1 minute on foot |
| ●From Chitose Tsuru Sake Museum ……………………………………………………………… |   | 6 minutes on foot |
| ●From Sapporo Tozai Subway Line [Bus Center mae] Station |   |   |
|  …………………………………………………………………………………………………Exit No. 3 … |   | 5 minutes on foot |
| ●From Sapporo Namboku Subway Line, Tozai Line, Toho Line [Odori] Station |   |   |
|  ……………………………………………………………………………………………………Exit 34 … |   | 5 minutes on foot |
●From Sapporo TV Tower …………………… 5 minutes on foot
●From Odori Park …………………… 5 minutes on foot
●From Tanukikoji Shopping Arcade (1-chome) ……… 1 minute on foot
●From Chitose Tsuru Sake Museum ………… 6 minute on foot
●From Sapporo Tozai Subway Line [Bus Center mae] Station

 ……………………………Exit No. 3 5 minute on foot
●From Sapporo Namboku Subway Line, Tozai Line, Toho Line [Odori] Station

……………………………Exit 34 5 minute on foot

What is Nijo Fish Market like?
Nijo Fish Market is a market that has been in business and serving the citizens of Sapporo for the past 125 years. From 8:00 in the morning to 6:00 in the evening, the freshest seafood, processed foods, fruits and vegetables line the stalls and shelves. There are shops where you can enjoy fresh seafood right on the spot, unique restaurants, and souvenir shops where tourists and locals come together to shop every day.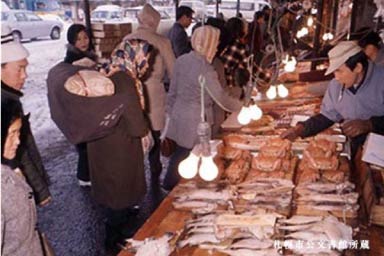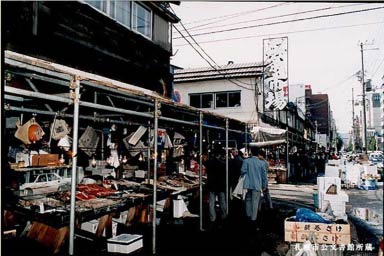 How was it established?
Nijo Fish Market dates back to the early Meiji years when the fishermen of Ishikari Bay sailed up the Ishikari River to sell the fish they caught. Back in the day, the first fish market was opened on Nishi 1-chome, on the other side of the Sosei River, but then parts of the fish market spread across to the eastern side of the Sosei River, and a cooperative consisting of 13 stores was created. This was the beginning of the Nijo Fish Market.


Overcoming the Major Fire of 1902
In Meiji 35 (1902), a major fire swept across the market, destroying everything. For a year the land remained vacant, but was later rebuilt by a group of volunteers. In Meiji 43(1910) the market stretched to East 2-chome, and the market became an icon of Sapporo.